I've grown so fond of breadfruit over the years it pains me to hear that the tree at the back of my parents home in Trinidad and Tobago, is usually laden every year and about 80% of them go to waste. With only my uncle at the house, there's only so much he can eat and after a while villagers gets bored with his generosity. Maybe they too got trees in their garden?
You'll Need…
1 mature breadfruit (about 4-5 lbs)
For Boiling The breadfruit…
1 can coconut milk
3/4 teaspoon sea salt
1 heaping tablespoon Caribbean Green Seasoning
water
1/2 Scotch Bonnet pepper (optional – for boiling)
4 sprigs thyme
2 scallions
2 cloves garlic (smashed)
For Frying The Breadfruit…
3 tablespoon butter (salted)
1/2 large onion (sliced)
4 cloves garlic (smashed)
1 Scotch Bonnet pepper (optional – sliced)
2 scallions (chopped)
1 Pimento Pepper (aka seasoning pepper)
1/2 teaspoon black pepper
2 tablespoon chopped parsley
Notes. If doing this recipe vegan, replace the butter with olive or coconut oil or whatever butter replacement you usually use. Go though the full list of ingredients if doing this gluten free to ensure they meet with your specific gluten free dietary requirements. I used Scotch Bonnet pepper in the recipe but you may use any spicy pepper you like or can source. Or leave it out if spicy is not your thing.
Please refer to the video below for a better understanding of how to peel, core and slice the breadfruit. I first cut the stem area off so I have a flat surface, then using my knife I cut the breadfruit in half, followed by three more cuts to get wedges (6 in total).
Using a pairing knife I then removed the core and skin, after which the wedges were washed and drained.
Place everything (all that's mentioned in the 'boiling' list above) in a deep pot, cover with additional water and bring to a boil.
I like adding scotch bonnet here as it allows for that kick to make it's way deep into the pieces of breadfruit as they cook.
Reduce to a rolling boil and remember to flip the pieces every 10 minutes or so, so they cook evenly. Make sure they're covered with liquid during the 35-40 minutes it will take for the them to go tender.
Once you can pierce the thickest parts with a knife and there's no resistance, you'll know it's fully cooked. Drain and set aside.
It's time for the frying part of the recipe. This is where we add additional flavor to give it that unique Caribbean finish.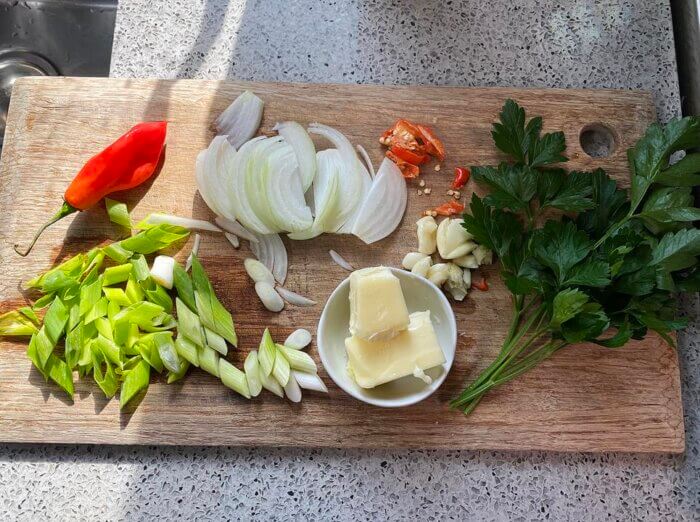 Heat the butter in a wide pan on a medium flame and add the onion, garlic, Scotch Bonnet, scallions Pimento pepper (should you be able to source it) and black pepper. Reduce the heat to low and cook gently for 4-5 minutes.
When the breadfruit is cool enough to handle you may then chop into bit sized pieces or if you prefer, you may mash or crush it. I opted for pieces.
Once the onions etc are tender, it's then time to add the breadfruit to the saucepan and stir well.
Try your best to coat all the pieces of breadfruit with the buttery base we created and to help create a bit of crust, turn the heat up to medium. After about 3-4 minutes, top with the parsley.
You may taste and adjust the salt to your liking and decide how much of a crust you want on the pieces of breadfruit. Turn off the stove and enjoy. While this is part of my #MeatFreeMondays series, I must confess that I did top my plate with stewed beef.
BTW, if you've ever been to the Oistins area in Barbados, you would have had the opportunity to have this with grilled Mahi Mahi (called dolphin locally).
Source:caribbeanpot.com